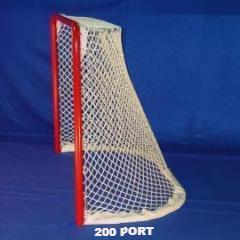 6' x 4' Ice Hockey Goal, Regulation, Portable 2" "Rink Rat" style
$339.99
Model #200 PORT
Regulation Size - Full size and lighter weight, Yet adults can still take slap shots and not break goal, not even close!!
Truly portable -locking steel sleeves and "Quick Cable" system allows goal to be stored six inches high in just seconds
Attractive rounded base, the skirting is included!
Grade 8 bolts lock it together.  No swadges, indicating thinner wall tubes.
Light enough to be easily portable. thickest steel wall.  Driveway, street, or pond action
Ships mostly assembled, discount on shipping for a pair!

SIZE - 72"  x 48"  Regulation size goal, 15" top shelf, 34" deep at base


STRENGTH 100% steel!  2" face, .109" thick, 12 gauge!  
Weighs approximately sixty pounds.  Will not rust or rot!
600# knotless nylon netting - 1 1/2" mesh, 6mm-1/4" thick. UV treated.
STYLE -  Instant "Quick Cable" system - no lacing on front of goal. Top shelf, Curved base, Diagonal bar, & Skirting - included!